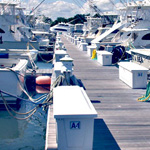 Archived Posts From: 2013
Written on: August 7th, 2013 in Fishing Report
The White Marlin Open is in full swing and some great fish are hitting the docks.  The temperatures have been a little cooler, but the fish keep coming in at the Indian River Marina.
Andy Coates of New Castle, DE, caught two tautog while fishing out at about 3 miles out of the Indian River Inlet.  They weighed in at 9.7lbs and 7.5lbs and were caught on clam.
Paul and Vickie Cronshaw of Bethany Beach, DE, caught a 136lb big eye tuna when fishing in 200 fathoms at the Washington Canyon.  They were trolling with mylar sea witches rigged with ballyhoo.
With more great fishing in store for the rest of the season book a charter from the Indian River Marina charter fleet so you can join in on the action!