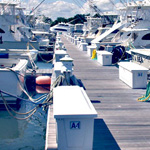 Archived Posts From: 2013
Written on: August 25th, 2013 in Fishing Report
Anglers are continually hitting the docks of Indian River Marina with great catches as summer continues.  We still have a lot of great fishing ahead so make sure to book a charter with our exceptional Delaware fishing fleet by calling 302-227-3071.
Captain Aaron Hurd and crew aboard "Gale Force" caught 12.2 lb and 10.2 lb rock fish with live spot in the Indian River Inlet.
Nathan Donahue of Clayton, DE caught his first keeper flounder while fishing with his grandfather, Burt Campbell at the Indian River Coast Guard Station wall using live shiners.  The flounder weighed 2.2 lbs and measured 18″.  Great catch Nathan!
Live spot was used near A-Buoy by Al Restaneo of Wilmington, DE to land a 6.4 lb, 26″ flounder while his friend caught six other flounder measuring 20-23 inches.
Burt Campbell of Dagsboro, DE caught a 6.6 lb, 26″ flounder with live spot at the Indian River Coast Guard Station wall.
For all boat owners, be sure to contact the marina to arrange winter storage for your vessel. We have great rates, but space is limited so call 302-227-3071 today!
All pictures are courtesy of Hook 'em & Cook 'em.