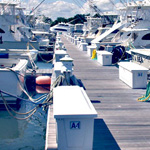 Archived Posts From: 2013
Written on: August 16th, 2013 in Fishing Report
Anglers continue to hit the docks of Indian River Marina with great catches.  Summer is starting to wind down, but the fishing action continues.
Lu Ann Harding of Smyrna, DE caught a 30″ rock fish in the Indian River Inlet using live spot.
Matt Hunsberger of Pittsburgh, PA caught a 5 lb black drum while his uncle Frank White of Ocean View, DE, caught a 4.7lb black drum.  Both were fishing with sand fleas at "Bubble Gum Beach".
Justin and Mike gorman and Dave Sterling of Leesburg, VA, caught a 44.9 lb wahoo when they were fishing out to the Elephant's Trunk trolling ballyhoo and anIilander blue and white lure.
Captain JoJo Joachimowski of the "Knot Again" had a trip offshore to the Poor Man's Canyon and hooked up with a mixed bag.  Paul and Joe Cirillo , Dave McKelvey, and Darryl Scuse of Smyrna, DE brought back a 15lb mahi, a 47lb wahoo, a 45lb tuna, a 55.4lb wahoo, and also a white marlin release.
Photos are courtesy of Hook 'em & Cook 'em.