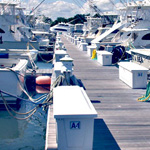 Archived Posts From: 2014
Written on: May 4th, 2014 in Fishing Report
Boats are being splashed, the docks are filling up, and the boat ramp is getting busier everyday.  It was a rough winter for most, but the start of the season is finally here.  Hammerheads Dockside is open on weekends from 8 AM until 8 PM until May 16th when regular hours, 7 AM until 10 PM, 7 days per week will resume.
Here at Indian River Marina flounder, tog, and small rockfish have been reported.  Further south at Oregon Inlet anglers are slamming big eyes, yellowfins, bluefins, and even some nice gaffers.  We are hoping these fish make it up our way soon.
Tim Auman of Harrisburg, PA, caught a 22″, 3.6lb flounder while fishing along the Indian River Inlet near the Marina entrance.  He caught it with a handmade pink, blue and white fly that he tied.
Dan, Fran and Jake Okoniewski and Bob Ficaturo
of Wilmington, DE went fishing out at the Washingtonian and came back with
their limit of tog and one flounder.
They tog was caught on green crab and the flounder was caught using a
minnow on a bucktail.
All photos are courtesy of Hook 'em & Cook'em Outfitters