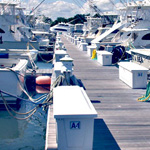 Archived Posts From: 2014
Written on: May 24th, 2014 in Fishing Report
Happy Memorial Day Weekend from everyone at Indian River Marina.  The fishing action continues to heat up at IRM with the first yellow fin and blue fin tuna.  Offshore fishing is picking up.  There have been reports and catches of yellow fin tuna, and blue fin tuna in the Baltimore, Spencer, and Poormans Canyons.
Inshore reports and catches have come in for rockfish, trout, and flounder.  Rockfish in the Inlet have also been landed.
Ryan Foran, his friends Ryan and Joe and their sons, Gavin, Riley, and Joe fished with IRM Charter Capt. Aaron and Jim Coffiey on Gale Force Friday. They caught many short Rockfish along with 2 keepers.
On opening day of black sea bass season, IRM's Capt. Dave Collins of the Capt. Ike II, took Jacob Webb of Lewes, DE, Ryan Harris and Chris Walker of Seaford, DE, and Steve Wrightson of Easton, DE out to the Dry Docks.  They came back with 77lbs of sea bass and 22lbs of cod. Chris got himself a nice citation bass weighing in at 4.8lbs and measuring 21.5″.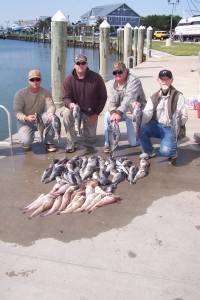 Matt Burns of Ocean View, DE, caught this 16.6lb and 37″ rock fish when he fished a hickory shad in the Indian River Inlet
Eddie Carper caught this 3.7lb and 23″ sea trout when he was fishing in the Indian River Inlet on the north side using a zoom worm with a jig head.
Corey Brossman of Wyomissing, PA caught a 5.3lb trout and a 15lb and 16lb rock fish while his friend Sam Bozochovic of Williamsport, PA, caught an 18.8lbs rock fish.  Both were fishing in the Indian River Inlet using 5″ Storm Lures to catch all of the fish.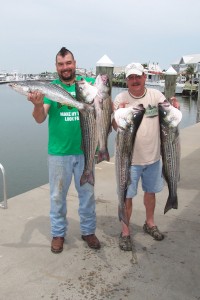 The team from "Stress Reel-ief", Bo Wilkinson, Paul Daisy, Capt. Fred Winward and Keith Berger all of Roxanna hooked up into Indian Rivers first yellow fin and blue fin tuna of the year.  The blue fin weighed in at 44.7lbs and was caught while trolling ballyhoo out at the Baltimore Canyon.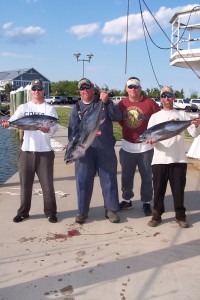 We are ready for a busy weekend here at IRM.  Come on by and visit Hook 'em & Cook 'em.  They are having a  large sidewalk sale offering plenty of fishing gear and equipment.
Hammerheads is now open daily from 8 AM until 10 PM.  Stop by for a cool drink and watch the awesome sunsets!