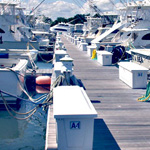 Archived Posts From: 2014
Written on: August 6th, 2014 in Fishing Report
The weekend is almost here and we are looking forward to some great fishing and great weather!  Here are a few more reports from earlier in the week here at Indian River Marina.
Mike and Anika Zima of Chicago, IL fished on the Judy V. with Capt. Ed Wheedleton and caught this 2lb black sea bass on clam and a 2lb flounder on shiners.   The fish were caught drifting at Site 10.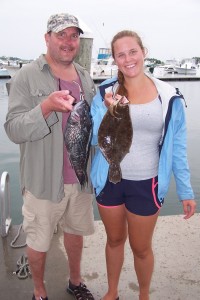 Kathy Herring of Silver Spring, MD, Oliva Zanjani and Shawn Cousan of Springfield, VA caught these croaker while fishing on the Judy V. with Capt. Ed Wheedleton while fishing at the 3 mile line off of Indian River.
Kathy Romine and Brett and Toni Foltz all of Harrisburg, PA caught a 16′ flounder, a 12 1/2″ black sea bass and a bag full of croaker while fishing on the Capt. Bob II with Capt. Roger Meekins.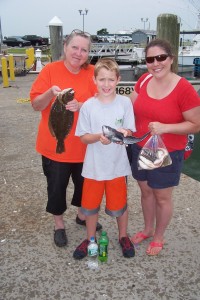 The Capt. Ike II from Indian River Marina had a great overnight trip on Thursday into Friday morning when they came back to the dock with 20 yellow fin tuna.  Stephen Showalter, Carl Sensenig, Harvey Good, Eric Weaver and Lee Sinsenig all of Port Trevorton, PA filled all their coolers with bags of meat from the 765lbs of tuna caught out at the Washington Canyon. Capt.  Dave Collins reported that they trolled and caught most of these fish between 6pm-9pm on Thursday night with over 15 throw backs.
Photos courstesy of Hook 'em & Cook 'em
Tight lines and good times!