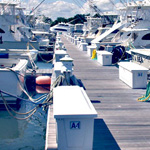 Archived Posts From: 2014
Written on: August 31st, 2014 in Fishing Report
Ray Suchak of West Springfield, MA, caught this 2.7lb and 18 inch flounder while fishing on the head boat Judy V. with Capt. Eddie Wheedleton. They were fishing with cut bait out at B-Buoy.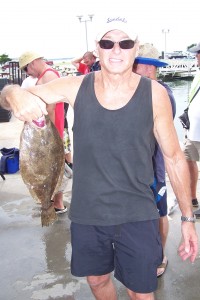 Jamin Heck and Laughlin Bitler of Reading, PA, caught 3.5lb flounder along with a blue fish while on the head boat Judy V. with Capt. Eddie Wheedleton. the 20″ flounder was caught using cut bait on a fluke killer.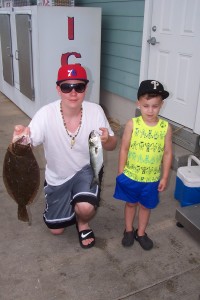 Joe Sileo of Delran, NJ, caught these 4.3lb 23 inch and 2.5lb 17 inch flounder while fishing with Capt. Eddie Wheedleton on the head boat Judy V. at B-Buoy with cut bait.
Kenny and David Hopkins of Wilmington, DE, caught these keeper flounder while fishing out at A-Buoy using squid and minnows. The largest fish caught by David weighed 4.1lbs and was caught on "Rock On"
While trolling ballyhoo in the Baltimore Canyon on an overnight trip Capt. Charlie Horning of the "Fish Whistle" hooked up on a 143lb big eye tuna along with 2 white marlin releases and 2 mahi. John Horning, Stephen Schwing ,Anthony Casselli and Trent McMahon (not pictured) are all from the Maryland area.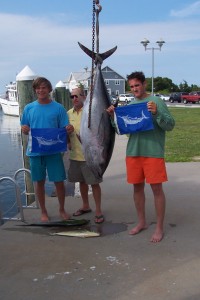 While fishing on "Hear no Evil" Richard Harkins and Dan Kinsey were fishing at Massey's Canyon and the Chicken Bone and caught these 2 mahi. One was caught on the chunk and the other on the troll. The largest weighed in at 18.1lbs.
We have had a very busy, and fun Labor Day weekend.  It seems like summer just started, but luckily there is still a lot of great fishing ahead of us.  With all of the hectic summer schedules winding down now is a great time to book a charter out of Indian River Marina.  Please call the marina office at 302-227-3071 and we will be happy to assist you in scheduling a great charter experience.
Until next time, tight lines and good times!
All photos are courtesy of Hook 'em & Cook 'em.