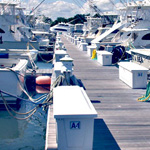 Archived Posts From: 2014
Written on: August 27th, 2014 in Fishing Report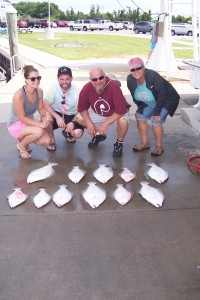 What a great summer we have been having at Indian River Marina.  The fishing continues to be hot both Inshore and Offshore.
Inshore Flounder fishing is the best we have seen on over 20 years.  There have been reports of anglers with grand totals for the season with over 80 keeper Flounder!!  That is incredible and the Flounder are everywhere! in the Bay, Inlet and Inshore Reports of many small Rockfish in the Inlet over the past week continues.
Offshore reporting many White and Blue Marlin landed in the latest local Tournament with hundreds of White Marlin Releases.  Peanut to Gaffer Mahi being landed in the weed lines and balls from the Poorman's to the Baltimore Canyon's.  The Tuna bite has been hot and cold from the Wilmington to the Washington.
With plenty of good fishing and nice weather to come give us a call and book your next Charter with the Indian River Marina Charter Fleet at 302-227-3071.
Till next week tight lines and good times
Frank, Eileen and Nikki Adler and Peter Morris all from Phila., PA, caught 31lbs of flounder with the biggest weighing in at 4.6lbs with squid out at Site 10 on "Gale Force" with Capt. Aaron Hurd.
Tom Schulz of Alexandria, VA, caught this 3.4lb and 23 inch flounder while fishing on the Judy V. with Capt. Eddie Wheedleton out at B-Buoy.
He was using cut bait on a fluke killer.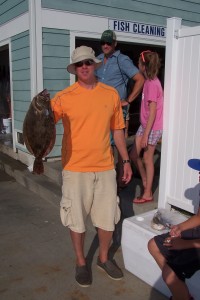 Teyona Danner of Mechanicsburg, PA caught these 6.6lb and 8lb mahi at the Hot Dog.