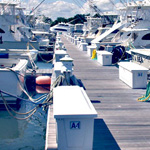 Archived Posts From: 2014
Written on: August 3rd, 2014 in Fishing Report
Closer to IRM we are still seeing a good number of flounder coming in.
Gene Hatfield of Millville, DE and Joe Fedick of Ocean View, DE were one short of their limit while fishing out at site 10.  Joe caught the biggest fish of the bunch weighing in at 5.8lbs and was using squid and minnows to catch his big flattie.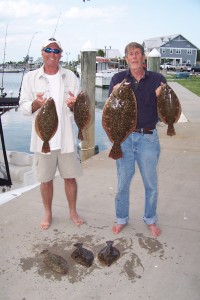 The Spence Family of Newark, DE, Zach, Josh, Terry and Mark caught these 8 keeper flounder while fishing out to Site 10 with squid and shiners.  They were fishing on the Makai of Indian River with Capt. Larry Coyle and mate Joe Coyle. Josh (right, front) caught the biggest flounder, weighing in at 6.5lbs and measured 26″ in length. They had a total of 29lbs of fish.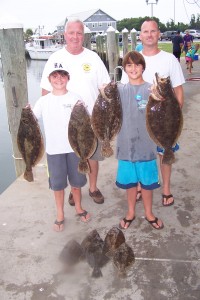 Rocco Fucetola of Blue Anchor, NJ, caught this 8.7lb and 29″ flounder while fishing with cut squid on a bucktail out at the Old Grounds.
Scott Pupoint caught this 3lbs and 20″ flounder while fishing in the Indian River Inlet using live minnows.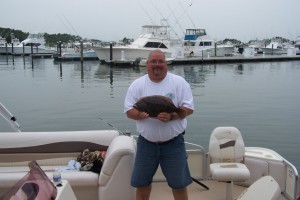 Offshore, The "Hooked Up" Fishing Team of TC Howard, Van Warrington, Capt. Guy Warrington, Evan Houvinen, and Mate Nate Warrington, all from Bethany Beach DE, brought in the heaviest yellow fin tuna to Indian River this season last Saturday, July 26. It was caught by Capt. Guy Warrington using skirted ballyhoo and rainbow spreader bars. This 75.2lb tuna was caught in the Wilmington Canyon.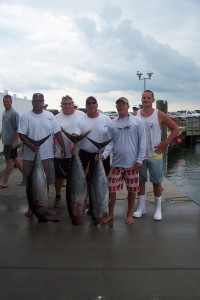 All photos are courtesy of Hook 'em & Cook 'em.
Until next time tight lines and good times!