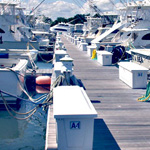 Archived Posts From: 2014
Written on: August 17th, 2014 in Fishing Report
On an overnight trip to the Washington Canyon Capt. Collin Clarke, Jason Massey, Sean Tate, John Whelen, Bill Mathews, Aaron Strausbaugh, Addison Baumgardner and Jeff Rosenkilde all of Bethany Beach, DE chunked butterfish and sardines to bring up these 19 yellow fin tuna. The largest weighed in at 65lbs.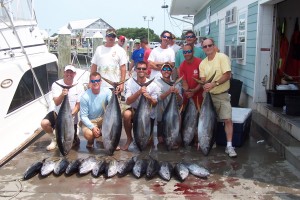 Our first swordfish of the season was brought in on August 9th. This 62.8lb sword was caught by Cy Brong of Wilmington, DE on "Last $" with Capt. Rodney Meyers, Larry Chenney and Gregg Peters of Ocean View, DE.  The crew also brought in 30 mahi.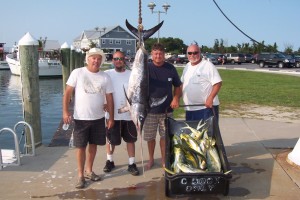 The "Tressa Lynn" Captained by Gerry Bulat of Indian River, DE, took his friends out to the Wilmington Canyon and brought back a 86lb wahoo caught by Vincent Kerrigan of Wilm., DE and a 102lb big eye tuna caught by Craig Pawley of Bernville, PA. They also had a 250lb blue marlin release.
Pictured are Craig Pawley, Dan Cornell of Dover, DE, Chip Lyons of Little Torch Key, FL, Capt. Gerry Bulat, Jitters Jeffers of Rehoboth, DE and Vincent Kerrigan.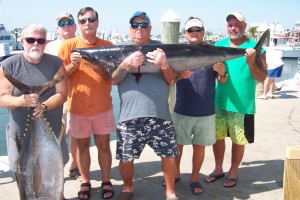 All photos courtesy of Hook 'em & Cook 'em.