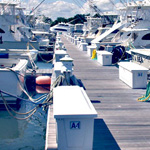 Archived Posts From: 2017
Written on: August 31st, 2017 in Fishing Report
Fishing Report 8-31-17
With the windy and rainy weather the last few days, we have not had any reports of any catches.  The ocean looked flat this morning, so we expect folks to get out there and land some fish.
Indian River Marina is having a Fisherman's Flea Market on Saturday, September 9, 2017, at 9am.  Slipholders at IRM will have fishing items for sale.  The general public is welcome to come and shop for these items.   Only IRM slipholders are permit to have items for sale.
Since we have not had any reports for fish landed, here are a few pic from this summer: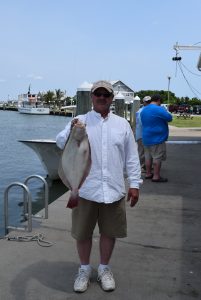 This 4.6lb flounder was caught by Al Fish, from Oil City, PA (yes that's right) while fishing on the Gale Force Charters with Capt. Aarron Hurd.  They fished in the Indian River Inlet with top and bottom rigs with minnow.
This 126lb blue fin was caught by Frank Perna of Alexandria, VA while trolling ballyhoo on a spreader bar at the Hot Dog. Jim Bunting of Georgetown, DE and Tom Schamno of Baltimore, MD fished with Frank on the Indian Giver.
Photos courtesy of Hookem & Cookem Bait Tackle and Seafood.
Til next time, tight lines and good times.