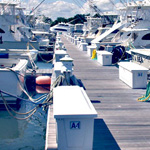 Archived Posts From: 2019
Written on: March 1st, 2019 in Fishing Report
It's hard to be positive in the face of next week's freeze, but spring is only 19 days away!
Captains are still landing heavy tog, up to over 10 lbs. Patience is the key here. Cold fish = slow bite.
Those lucky enough to be in North Carolina right now are enjoying thick yellow-fin, blue-fin, and black sea bass. Be ready – those fish are headed our way as soon as the water warms up! To prep for the upcoming season, you might want to take advantage of the low tides we've been having to check out sandbar locations.
If you haven't already, make sure you get the Kids Catch All Tournament on your calendar for June 21-23. Revenue generated from this event goes to the Lyme Disease Association of Delmarva (LDAD). If you're interested in registering your child, sponsoring our event, or have any other questions about the tournament, give us a call at 302-227-3071 and check out the website at kidscatchall.com .
Thanks for reading, and get ready for tight lines and good times!