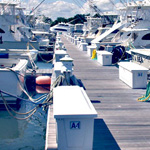 Archived Posts From: 2019
Written on: March 15th, 2019 in Fishing Report
The weather outside has been deceivingly sunny and warm the past few days, but if you tried to go to the beach, you probably got pretty sandblasted.
I know everyone is tired of hearing it, but the tog are still steady. The water temperature is the same, despite the warmth. Temperatures are supposed to drop back down to "normal" this Sunday.
Two firsts this week: first striper was caught at the Indian River Inlet today by Chuck Davis. Nice catch! And the first osprey sighting at Delaware Seashore State Park right at the Inlet bridge.
Tuna are still hot down in North Carolina. Save some for us, guys! 🙁
The marina Ship Store's grand opening is set for Easter weekend! Hammerheads Dockside will also be open by then, so come on down for tarps and drinks!
Five more days, people… Hang in there.