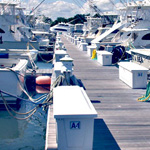 Archived Posts From: 2019
Written on: March 8th, 2019 in Fishing Report
Hope everyone made it through the late-winter freeze okay. The water temperature dropped a couple of degrees. That being said, hope is on the horizon.
Tog are still scattered, with most anglers catching limits of decent tog. Reports say they were up to 27″ out of OC.
Tuna are flooding the Oregon Inlet in NC according to reports. Massive blue fin were reeled in, up to 107″, all weekend, and yellow fin were hitting the deck like crazy. We're looking at a few warm days in a row coming up, so be ready to get out there and enjoy it! As soon as the water temperature hits over 45, we're betting all those tuna are gonna come up to enjoy it!
We're all white-knuckled waiting for this weather to break. Hold on y'all, not much longer.
Liked always, thanks for reading. Not too much longer until those tight lines and WARM times!