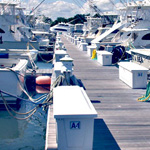 Archived Posts From: 2019
Written on: March 23rd, 2019 in Fishing Report
Welcome to spring! Nothing like gale-force winds to break in the new season. Weather tomorrow is supposed to be beautiful, so take some quality time today to untangle your lines and toss those old worms you thought you'd get to use last fall.
If you're looking for something uneventful to do, try tog fishing. The cold weather is keeping them slow, but they'll still come out if you're patient.
Anglers are reporting short rockfish coming out of the Inlet. Try and get here right before high-tide and you'll have better luck. No more stripers reported out of here, but one popped up down in OC. Bring out some small shads – that seems to be the lucky pick.
Water temperature reading is 41 F so be on the lookout for schools of striper – they're a-coming.
Check out our new instagram page at indian.river.marina! See y'all on the web!