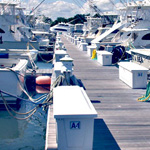 Archived Posts From: 2019
Written on: March 30th, 2019 in Fishing Report
Before we get started, a quick THANK YOU to whatever higher power gave us this beautiful Saturday. Hope everyone got a chance to soak in some of the vitamin D.
Guess what? There's still tog out there, and they are still slow to the bite! But it's good looks for the future. Current water temperature in Rehoboth is about 46 degrees.
Reports of a couple small rockfish being caught out of Indian River Inlet. It's a little early for anything consistent, but hey, at least it'll get you out of the house. IR Inlet fishermen were also pulling up some short striper (15 inch average) earlier in the week. The key is getting there at outgoing tide and using small swim shads and bucktails.
They are tearing up the tuna down in the Carolinas. As soon as the water gets a little warmer, they're headed straight for us. Probably another month or so.
Charter Boats have already started booking summer trips!! Click here to check out the charter boats page and find information on how to book.
Can't wait to see all the lines coming off the jetty again. See y'all