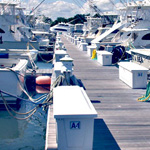 Written on: June 20th, 2015 in Fishing Report
Capt. Charlie Horning of the Fish Whistle caught these 3 big eye tuna with trolling ballyhoo in the Baltimore. Trent McMahon of Olney, MD, Bill McMahon of Lewes, DE, Jimmy Taylor of Ocean View, DE and John Horning of Laytonsville, MD landed these tuna that weighed in at 161lb, 196lb and 231lb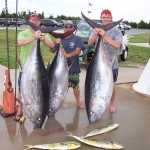 Chris Long caught this 17.9lb blue line tile on ballyhoo with fishing in the Baltimore Canyon.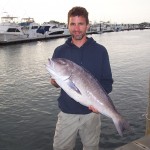 Ed Brown of Lewes, DE, caught this 104.9lb blue fin tuna fishing inside of the Poor Man's trolling ballyhoo.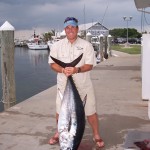 This 18.5lb Mahi was caught by Mark Recor of East Hampton, CT, while fishing in the Baltimore Canyon with Capt. Ike II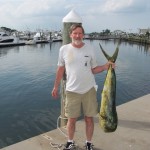 Bill Hamilton, Gary Tilley and Bill Walker caught their limit of flounder using squid and minnows out at the Old Grounds on the "Christie Marie". The largest weighed in at 8.9lbs and measured 28 3/4inches long with the total weight of 43lbs of flounder.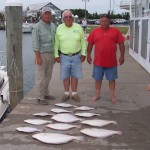 Great Fishing Inshore and Offshore book with us and get hooked……..302-227-3071
Next weekend get the kids signed up for the 2nd Annual Kid's Catch-All Tournament register online or at the Marina.
Tight Lines & Good Times!!!!!
Pictures courtesy of Hook'em and Cook'em…….
Written on: June 15th, 2015 in Fishing Report
Offshore fishing is red hot in the Wilmington, Baltimore and Washington canyons with Sharks, yellowfin & big eye tuna, Mahi, and a few White Marlin releases. Inshore is reporting great catches of Sea Bass, Flounder, Scattered Rockfish and Bluefish.
The Kids a Catch All is less than two weeks away.  Get the kids signed up and come enjoy all the fun and excitement June 26th – 28th.  Be sure to stop by the the weigh in at Hook em n Cook em on Saturday and Sunday afternoons.   Till next time a Tight Lines & Good Times!!!! Pictures courtesy of Hookem n Cookem Bait n Tackle
Josh Gessler, Tom Creighton, Fred Wetzstein, Matthew Gessler, Mary, Francesca and Tommy Gessler, Jr., all from IRM's Boy's Toy caught this 215lb big eye tuna, 12 yellowfin, 1 mahi, 1 mako shark and a white marlin release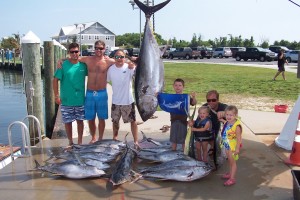 This 7.9lb 26 inch flounder was caught by David Burgess of Cambridge, MD while jigging out at the Old Grounds with cut bait.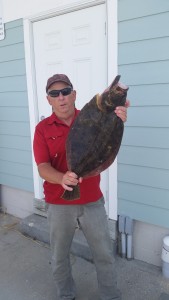 Richard Kaczmar of Chicago, IL, Brendan Morris or Rehoboth Beach, DE and Henri deCarlo also of Chicago, IL caught this 170lb big eye tuna while fishing in the Baltimore Canyon trolling ballyhoo. They also caught a 40lb yellowfin tuna.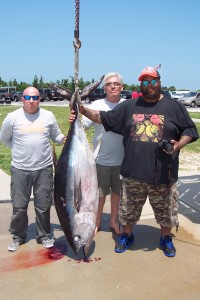 The crew from Risk Reward, Eric VanDyke, Capt. Roger Clappe both of Wilmington, DE, angler Dan Altemus of Newark, DE and Tony Baker of Wilmington, DE caught this 340lb Thresher shark using Hook 'em & Cook 'em's own special chum "Triple Threat" out at B-buoy.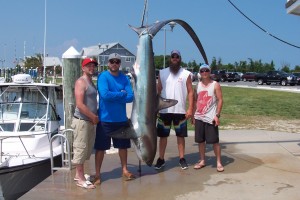 Written on: June 5th, 2015 in Fishing Report
The weather has not cooperated with us lately….  Wind and rain  has kept alot of boats tied tight this week.  Today is the first day of the Mako Mania and many boats headed out for their first day of Shark fishing.  Here are some pics from last week .
This golden tile was caught by Herb Jenkins while deep dropping squid at the Baltimore Canyon. This tile fish weighed 9.3lbs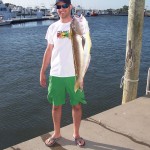 Lynn Ceritano of Frankford, DE caught a 53.6lb black drum while her friend Tommy Cline of Millsboro, DE. caught a 21lb black drum. They were fishing in the Delaware Bay off of Fowler's Beach using clams.
The fish is almost bigger than Lynn!!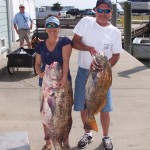 Mary Lou Kachel of Temple, PA, caught this 3.8lb flounder drifting at the VFW Slough using squid.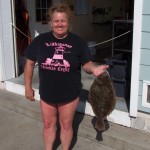 More pics to come and we will keep you posted on the Tournament Fishing.  Get the kids signed up for the 2nd Annual Kid's Catch-All Tournament June 26-28 here at IRM.  Food, Raffles, games and fun for 2 nights!!!
Till then Tight Lines and Good Times!!!!
Written on: June 1st, 2015 in Fishing Report
Lot's of action here at Indian River Marina both Inshore and Offshore.
Howard Gaughtry, of Virginia, Dave Woods and Daryl Bathelmess of Bethany Beach, DE and CC Lee of Newark, DE, caught the first Big Eye Tuna for Indian River Marina. It weighed 115.7lbs and was caught at the Baltimore on spreader bars with ballyhoo. They also hooked up 6 other tuna too.
Danny Hartke of Kent Island, MD, Jim Castro of New Market, MD, Matt Lambden of Arnold, MD and angler Michael Moss of Laytonsville, MD fished with Capt. Ike II and caught this 193lb mako shark. They were fishing at the 30 Fathom line with whole bluefish and Hook 'em & Cook 'em's Special Chum Blend.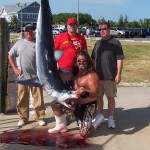 Jim Short of Rehoboth, DE, Jeremy Snap of Wilmington, DE, Phil Young of New Castle, DE, John Hazzard of Georgetown, DE and John Mancuso of Lewes, DE, brought home 8 tuna, 3 mahi and the first white marlin release at Indian River Marina.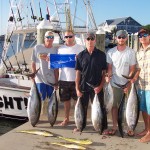 Our biggest mahi of the season was brought in by Matthew Gessler of Garnett Valley, PA, while fishing with his family on the Boy's Toy out of Indian River Marina. Matthew reported that he caught this 16.4lb mahi fishing in the Washington Canyon using naked ballyhoo.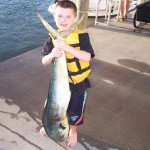 Still working out some quirks on the blog page we will have more pics and reports on Tuesday from the weekend.  Till next time  Tight Lines & Good Times!!!!
Written on: May 30th, 2015 in Fishing Report
Great fishing both Inshore and Offshore!
Tommy Jr., Josh, Tom Sr. and Matthew Gessler of Media, PA, Steve Schwing of Baltimore, Md and Kenny Arndt of Pottstown, PA had a good day on the ocean with this great catch of 11 yellowfin tuna. They were trolling at the Baltimore with ballyhoo.
Kevin Denison from Bethany Beach, DE, Tom DiCampli from Wilmington, DE and Todd Buckman of Newark, DE, were fishing on the "3 Amigos" and caught these 6 tuna while trolling ballyhoos in the Baltimore Canyon.  The total weight of the tuna was 174lbs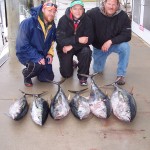 Roger Clappe from Wilmington, DE, caught these 11.7lb and 10.3lb blue fish while fishing with Ponytails in the Indian River Inlet.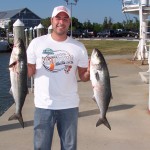 Jesse Cruickshank, Jeff Griffin and Capt. Stan Smith of the "Cindy Sue" caught a 109lb mako and 9 tuna while fishing out at the Baltimore on an overnight trip. They used a false albacore to hook the shark up and trolled ballyhoo for the tuna.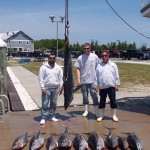 Don't forget that the 2nd Annual Indian River Marina Kid's Catch All is coming up June 26th, 27th, 28th.  Be sure to register your young anglers now!  Please give us a call at 302-227-3071 for more information.
Tight lines and good times!
Written on: May 21st, 2015 in Fishing Report
Happy Memorial Day Weekend!!!
Inshore and Offshore fishing has been great!
Flounder and Bluefish being landed in the back bay and Inlet. Inshore wrecks reporting good Sea Bass and Cod fishing. Big Bluefish in the Inlet and along the beaches. Offshore Yellowfins and Bluefins landed in Baltimore Canyon. Shark fishing continues to be good on the 20-30 fathom line. Nice size Blue Sharks, Mako's and a few Thresher's were landed this week. Here are a few catches of the week.
Wilmington canyon 64 degree water nice Tuna catch by one of our Private boats the Relentless and crew.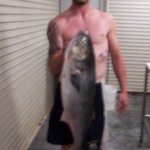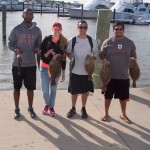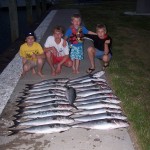 Looking forward to a great weekend give us a call and get hooked on your own fishing charter at 302-227-3071. Tight Lines and Good Times!!!
Written on: May 13th, 2015 in Fishing Report
The weather and some warmer water is finally upon us.  The Bluefish fishing  has been incredible along the Inlet and beaches with limits being landed by many anglers.  Seabass fishing opens May 15.   Get your little angler registered for the Kids Catch All  Tournament June 26th-28th and give us a call to book your own private charter at 302-227-3071.
Written on: May 2nd, 2015 in Fishing Report
The weather and water is beginning to warm up.  There have been Bluefish landed up and down the beaches.  A couple Flonder in the Indian River Inlet and some Sharks landed Offshore.  Captain Aaron Hurd aboard the Galeforce took Jason Nielson out Thursday am and we caught a couple dozen schoolie Rockfish at the inlet. No keepers but a lot of fun jigging.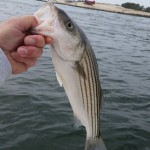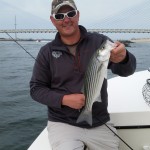 There was also a report of shad caught by the Coast Guard Station.
We hope to have some good reports from this weekend. Tight lines and good times until next time!
Written on: April 28th, 2015 in Fishing Report
John Nedelka of the Karen Sue had a great catch of tog and bluefish over the weekend inshore.  Dave Collins of Capt Ike had a nice catch of tog as well.  Along the beaches bluefish were landed on a consistent basis.  Small rockfish with a few keepers have shown up in the bay.  Down south off of NC there have been nice catches of yellowfin tunas and sharks.  Let's hope the warmer water and the fish move up soon.
Life at IRM is picking up.  Hammerheads has been open on the weekends since the beginning of April and is seeing good crowds out to enjoy the food and drinks.  Our boat yard crew is busy assisting our customers in launching their boats and moving them to get ready for the start of the season.  For our slip holders, please give the office a call to schedule your launch date and time if you have not done so already.
Tight lines and good times!
Written on: March 17th, 2015 in Fishing Report
Happy St. Patrick's Day!  Spring is right around the corner and the staff at IRM are beginning to get everything in order for the start of another great season.  As the weather continues to warm up stop by the marina to say hi.  We are looking forward to seeing everyone!
The office and fuel dock are currently open 8 AM until 4 PM Monday through Saturday.  The boat yard is operating 7 AM until 3 PM Monday through Friday.  For our slip holders please begin to look at your calendars for a launch date in April.
Hammerheads Dockside is tentatively scheduled to open Friday April 3 and will be open Friday through Sunday through mid-May when they will be open 7 days a week.
Please be sure to mark your calendars for the 2nd Annual IRM Kid's Catch All fishing tournament, which benefits the Lyme Disease Association of the Eastern Shore of Maryland on June 26th-28th.  The tournament is open to anglers 3 to 18 years old and will include dinner and prizes for the participants.  For more information please call the marina office at 302-227-3071.  On July 25th IRM will hold its annual Seafood and Arts Festival featuring lots of great nautical themed arts and crafts and delicious seafood.