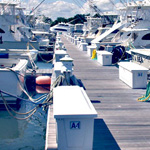 Archived Posts From: 2016
Written on: June 6th, 2016 in Fishing Report
What another amazing weekend of fishing! Rockfish and SeaBass are still being landed in the Indian River Inlet and inshore, and multiple Thresher Sharks were caught. A big congratulations to the Indian River Marina Charter Boat Capt. Ike II who placed 1st in Mako Mania with a 407 lbs Thresher. Offshore Yellowfin Tuna, Mahi and Mako are being landed. The season is finally here!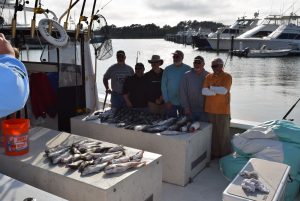 Capt. Rodney Jones of Fish Whisperer Charters took a crew out fishing for tile fish and black sea bass and they did not come back empty handed.  They boated a limit of both blue line and golden tile and then had enough time to bring in 41 keeper sea bass.  Jeff James of Lancaster, PA, Rich Courtot of Silver Spring, MD, Dave Rust of Oxford, PA, Gary Waters of Cockeranville, PA, Ron Oliver of Oxford, PA and Bill Rust of Crisfield, MD deep dropped squid for the tile fish in 350′ of water and then came back inshore some for the black sea bass.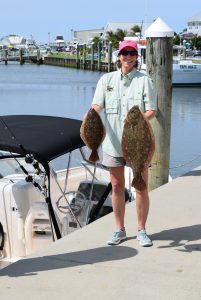 Janet Ruhl of Galena, MD caught this nice citation flattie while fishing out at Site 10.  It weighed 7.4lbs and measured 26″ and was caught on a top and bottom rig with squid and minnows.
Todd Buchanan of Sinking Springs, PA, Jack Beck of Coatesville, PA, Dru Baldwin of Birdsboro, PA and Colin Shuman of Shillington, PA caught 8 tuna, 3 mahi and a 100lb mako shark.  They were fishing from the Washington Canyon to the Poor Man's Canyon from the 250 – 500 line.
The tuna were caught on the troll with ballyhoo and the shark was caught on Triple Threat Chum made exclusively by Hook 'em & Cook 'em.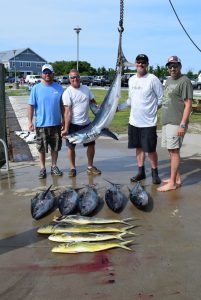 Eddie Kehl of Baltimore, MD, Kevin Huey and George Thompson both of Houston, DE and Eric Van Lill of Severna Park, MD caught a 103lb mako, 6 tuna, 4 mahi and had 2 white marlin releases while fishing the 461 Lump on the Bill Collector.
Tommy Schanno of Relay, MD, Frank Perna of Great Falls, VA and Jim Bunting of Georgetown, DE caught 5 tuna that weighed up to 45lbs and some nice sized mahi while fishing out at the Washington Canyon.
Til next time Tight Lines and Good Times!
Photos courtesy of Hook'em and Cook'em.