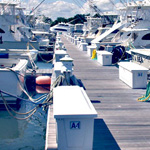 Archived Posts From: 2016
Written on: June 11th, 2016 in Fishing Report
The warm weather is here. Inshore a few Sea Bass and keeper Flounder have been landed. Offshore some Big Eye and Yellowfin Tuna have been caught. Also there are some reports of catch and release Hammerheads.
Speaking of Hammerheads, the music is playing every day after 3 pm. Come down for cold drinks and a beautiful view to watch the fish come across the docks.
Don't forget to book a charter this season here at the marina. Call 302-227-3071 and ask for Carolyn. She will help you book a great charter this season!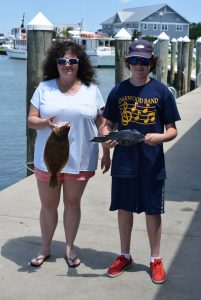 Flounder are starting to make an appearance out in the ocean and Lisa and Mick Oliss of Dayton, OH were lucky enough to get in on the action. They fished on the morning trip on the Judy V. and brought back an 18″keeper flounder and a sea bass.  They caught the fish using cut bait and shiners out around the Old Grounds.
Travis Stoltz and crew from Hamburg Pa….39 seabass 6 ling 1 flounder from Del / Jersey site…squid and clam with Fish Whisperer Charters #wreckaholic…June 10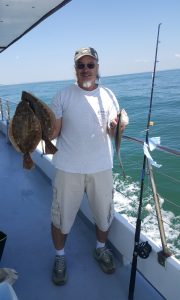 Al Long from Camden, DE caught three flounder up to 18″ on the head boat Judy V. with Capt. Chris Adams.  They were fishing around A-Buoy using cut bait and shiners.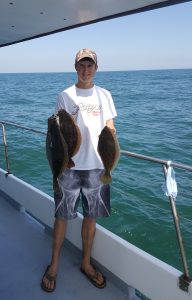 Capt. Chris Adams of the Judy V. was showing customers how to catch flounder on the morning trip and caught 3 nice flounder. One weighed 4.1lbs and were all caught using cut bait and shiners out at A-Buoy.
Chris Rotelli from California (on left) with the pool winner and Joe Rotelli from Indianapolis with a 17″ flounder that were caught on the half day morning trip on the Judy V.  Capt. Chris reported that they were fishing around A-Buoy using cut bait and shiners.
Til next time Tight Lines and Good Times!
photos courtesy of Hook'em and Cook'em