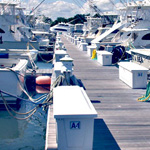 Archived Posts From: 2016
Written on: June 24th, 2016 in Fishing Report
Happy Friday Again!
We have some beautiful weather happening today and the entire weekend. Get out there and get hooked up.
Don't forget, the Kids Catch-All Fishing Tournament here at Indian River Marina is this weekend. Registration is tonight at the marina from 6-8pm and again on Saturday morning from 6-8am. Kids ages 3-18 can register. They can fish both Saturday and Sunday from 6am to 3pm. Weigh-ins will be at the weigh station by Hook'em & Cook'em from 3-6pm each day.
Check out these catches!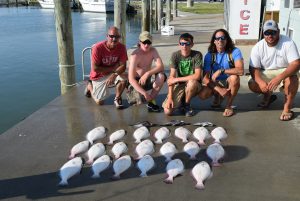 Capt. Aarron Hurd of Gale Force Charters took Todd and Chase Reckart and Beau Bright of Elkins, WV and Greg Alberta of Ocean View, DE, along with Mate Jimmy Coffiey out fishing for these flatties in the ocean. They caught these fish jigging using Gulp baits out around the Old Grounds.  The largest fish weighed 4lbs and measured 22 inches.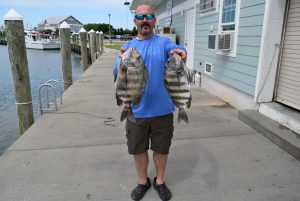 Ken German of Pottstown, PA, caught 2 nice sheepshead while fishing on the south side of the Indian River jetty using sand fleas. These fished weighed in at 5.3lbs and 7.7lbs.
Fred Metzger of Township, PA, caught this 4.3lb flounder and beat out his stiff competition Phil Saracco of Pittsburgh, PA who caught a 4lb flounder while fishing the Judy V. with Capt. Chris Adams. Capt. Chris reported fishing at the Old Grounds using cut blue fish strips.
***Photos courtesy Hook'em & Cook'em Bait-Tackle-Seafood. ***
Til next time, Good Times and Tight Lines!!!!