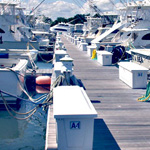 Archived Posts From: 2016
Written on: June 16th, 2016 in Fishing Report
Looks like the wind is coming back for the weekend. We have had a lot of boats both inshore and offshore landing some nice catches.
Don't forget to sign the kids up for our 2nd Annual Kids Catchall Tournament next weekend. There will be lots of giveaways and prizes for the kids. There will be two nights of music, food and fun under the big tent. Registration is Friday, 6/24, 6-8pm and Saturday, 6/25, 6-8am. Entry fee is $25 per child.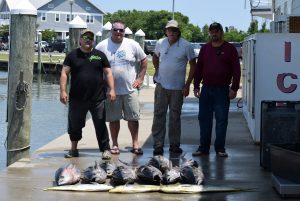 Fishing out at the Washington Canyon, Dave Woods of North East MD, Dave Hollaway of Middletown, DE, Tim Davis of North East MD and Jim Sensnig of Quarryville, PA caught 8 yellow fin tuna on the troll with ballyhoo.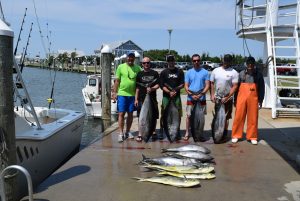 "Da Chief" headed to the 200 Fathom line just south of the Washington Canyon and hooked up with a nice catch of 3 big eye tuna weighing up to 84lbs, 4 yellow fin tuna and 4 mahi, all caught on the troll with ballyhoo.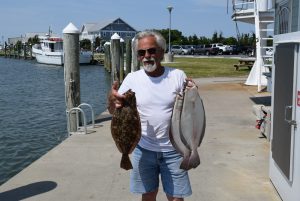 Jay Schmidt of Ocean View, DE, caught this 4lb flounder while fishing on the Capt. Bob II on the full day trip with Capt. Roger Meekins. They were fishing around the Old Grounds using cut bait and shiners.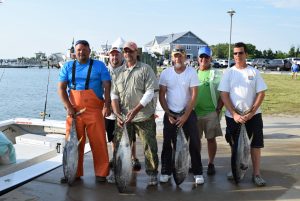 Capt. Rodney Jones took a long haul to the southeast corner of the Washington Canyon, but the Fish Whisperer didn't come back empty handed. Larry Lee of Ocean View, DE, Don Kindt of Lancaster, PA, Tim Gola of Newark, DE, Steve Williams of Newark, DE, Brian Patane of Pennsville, NJ and Johnny Shine of Frankford, DE brought back 4 yellow fin tuna weighing up to 45lbs.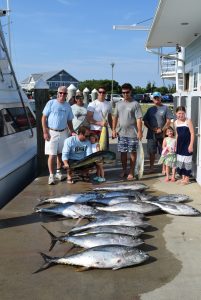 The gang from the Fish Whistle took an overnight trip out to the Washington Canyon and brought back 14 yellow fin tuna and mahi. The family was waiting to greet them and joined in the picture. Anglers (not pictured Capt. Charlie Horning) Jacob Webb of Lewes, DE, Tommy and Josh Gessler of Media, PA, Travis Dorman of Wilm., DE and Jimmy Taylor of Ocean View, DE.  They also hooked up with a blue marlin release.
** Pictures are courtesy of Hook'em & Cook'em Bait-Tackle-Seafood. **
Till next time, Tight lines and good times!!!!