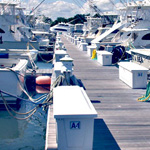 Archived Posts From: 2016
Written on: June 17th, 2016 in Fishing Report
Happy Friday!!!!
When we start seeing tuna and mako everyday, it makes everyday happy! Check out some of the catches brought in yesterday.
Also, if you would like to try your hand at landing fish like these, give us a call to book a Charter trip at 302-227-3071 and ask for Carolyn. We have many great charters that can take you back bay fishing or go offshore for the big ones.
Til next time, Tight Lines and Good Times!!!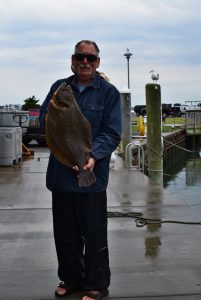 Bill Kunst of Dagsboro, DE caught this 7.6lb flounder while fishing out at A-buoy using cut bait and squid.
Jake Shumway of Chambersburg, PA, Ron Bowman of Ebensburg, PA and David Bowman of Hanover, PA also caught fish on the head boat Judy V. with Capt. Eddie Wheedleton while out at B-Buoy using cut bait and squid.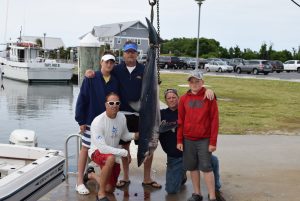 The crew from the "Jack Rabbit II" hooked up with a 93.4lb mako shark using a whole mackerel with a blue and white squid while out around the Hambone to he 20 Fathom line to the Fingers.  Capt. Jamie, Jackson and J. J. Tricky, Brian and Raymond McCall all from Lewes, DE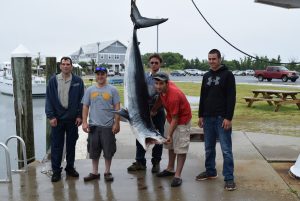 The "Michael D" with Capt. Paul DeFebo, Capt. Bruce Coffiey and Capt.
Steve Peterson took an overnight trip to the Norfolk Canyon and hooked up with a 231lb mako caught on a whole blue fish and Hook 'em & Cook 'em's exclusive brand of chum, Triple Threat. Pictured are Luke Brubaker, Justin Martin, Harvey Good, Lee Sensenig and Ricky Stauffer all from Mount Pleasant, PA.
Aaron Strausbaug of Milton, DE, Johnny Coffiey and Michael Baumgartner of Hook 'em & Cook 'em, Jack Hamilton of Phila. PA, Jeff Rosenkilde of Monkton, MD, Colin Clark of Washington, DC, Addison Baumgardner of Jarretsville, MD, John O'Hazza and Jason Massey both of Rehoboth, DE made an overnight trip to the 500 Fathom line between the Washington and Norfolk Canyon pay off big.  They brought back 3 big eye tuna with the largest one weighing in at 100lbs (caught by Addison) 12 yellow fin tuna averaging 45lbs and a handful of mahi.  They also released numerous sharks like hammerhead, tiger and one short mako.
***Photos courtesy of Hook'em & Cook'em Bait-Tackle-Seafood. ***