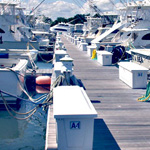 Archived Posts From: 2016
Written on: June 22nd, 2016 in Fishing Report
It's Hump Day!!!
Nothing beats the mid-week blues like a charter trip on a beautiful day. Gives us a call at 302-227-3071 and ask for Carolyn. She will help arrange a trip for you.
Get the Kids ready for our 2nd annual Kids Catch-All Fishing Tournament this weekend. Registration start Friday, 6/24, 6-8pm and again on Saturday, 6/25, 6-8am. The weather is looking spectacular.
Check out some of the recent catches:
Ryan and Dave Carey of Williamsport, PA, took a morning trip on the Judy V. with Capt. Eddie Wheedleton and came back with these 16″ flounder caught out a B-Buoy using cut bait and squid.
The folks on the Capt. Bob II's Lazy Man Trip had a great day of fishing with Capt. Roger Meekins. Tab Compton and Mike and Eva Palmer of Selbyville, DE, Scott and Kyle Vaughn of Carlisle, PA, Wayne Lewis of Salisbury, MD, Adian Wallace of Rockville, MD, Ryan Brown of Kensington, MD, Dutch Workman of Salisbury, MD and Ben Wallace of Rockville, MD all took home some fish for dinner.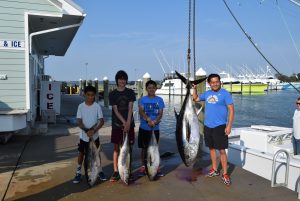 While visiting from Santa Monica, CA the Lai Family and Jack Roth of Ellicott City, MD, chartered the Capt. Ike II for an overnight tuna trip. They left on Monday morning headed to the Baltimore Canyon and returned back on Tuesday morning with this 165.6lb big eye tuna and three 30+lb yellow fin tuna.  Capt. Dave Collins reported that the big eye was caught while trolling ballyhoo.
*** Photos courtesy of Hook'em & Cook'em Bait-Tackle-Seafood and Fish Whisperer Charters ****
Til next time, Good Times and Tight Lines!!